Assassinations Capital: Presidentail Crime Scenes
Schedule: Click here for the current schedule or to make a reservation
This tour is entirely outdoors, usually lasts 2.5 hours and covers 2.5 miles. The tour begins on the east front of the Capitol and ends near the White House.
He Hated Mondays: Garfield's very bad day
Action Jackson: If you shoot at the king ...
Blair House: A 1950s battleground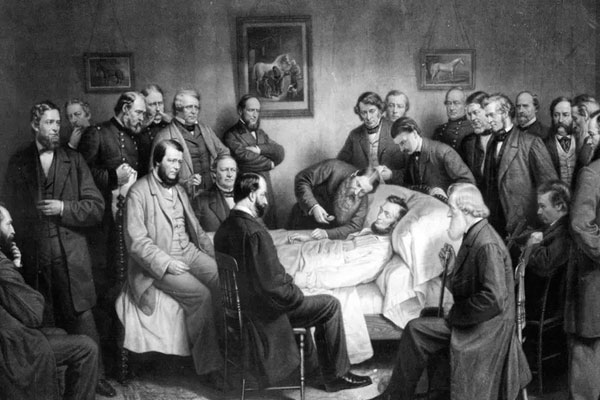 Lincoln: How may people did they cram in that room, huh?
Some of the most notorious crime scenes in DC are hidden in plain sight. Strolling from the Capitol to the White House, you'll see the locations of four presidential assassination attempts. Your guide will share the motives, the manhunts, and crazy coincidences that might have changed history forever.
This tour starts on the east side of the U.S. Capitol and ends by the White House. We'll talk about the first ever assassination attempt (Andrew Jackson), the most famous assassination (Abraham Lincoln), the curious case of James Garfield and the near-miss of Harry Truman.
And with a former stand-up comedian as your guide, you're gonna enjoy a few laughs along the way.
Presidents Included: You'll see sites related to Andrew Jackson, James Garfield, Franklin Roosevelt, Abraham Lincoln and Harry Truman. Plus you'll get a good look at the Capitol, the White House and the National Mall.
Recommended Audience: This tour is best for people 13 and up. Some stories have "mature" content, plus it helps to have a little background in U.S. history.
What to Bring / About the Route: Customers may want to bring bottled water and (in warmer months) sunscreen and bug repellant (for mosquitoes). Expect to be on your feet for two hours. There are no public restrooms along the route.
Weather Policy: If the forecast calls for heavy rain or other inclement weather, customers will be contacted before the start of the tour about possible rescheduling.